Livedates Previous livedates


2014, November 29th
Landsberg Theater, Landsberg am Lech, Germany

2014, November 23rd
B-flat, Bern, Switzerland

2014, November 22nd
AMR, Geneve, Switzerland

2014, November 21st
Schloss Elmau, Elmau, Germany

2014, November 19th
Unterfahrt, Munich, Germany

2014, November 18th
KFZ, Marburg, Germany

















News Previous news


November 17th, 2014
In the Country is returning to Germany and Switzerland on November 18th-29th! First up is Marburg, followed by Munich, Elmau, Geneve, Bern and Landsberg. On the 21st in Elmau we are accompanied by Solveig Slettahjell and Knut Reiersrud, in the spirit of the Berlin Philharmonic concert back in March 2015. Looking tremendously forward to this!
---
October

15th, 2014


Releasetour in Norway for Skogenes sang starts in Suldal on October 16th! Yeaah!
---
October 10th, 2014
The fresly pressed album Skogenes sang has arrived in storage. Bringing out out on October 17th!
---
October 3rd, 2014


In just two weeks from now In the Country is releasing its next album, with the great Frida Ånnevik as a fourth member. The album "Skogenes sang" is music by Morten Qvenild and In the Country and lyrics of the forest poet Hans Børli, and its all being released on Grappa.


---
October

1st, 2014


In the Country had a fantastic week in Korea and Japan last week, playing for the first time in Korea at the beautiful BBC Hall in Seoul. A short trip to Tokyo was also possible, bringing Solveig Slettahjell with us as a special guest. Thanks for the great time and we look forward to be back!
---
June
6th, 2014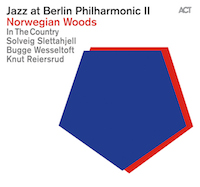 Today In the Country is relasing the beautiful Berlin Philharmonic procjekt Norwegian Woods on ACT, together with Solveig Slettahjell, Knut Reiersrud and Bugge Wesseltoft.The result is amazing, and you should all check out these great people who we have been fortunate to share this concert and live album with!
---
April 17th, 2014


In the Country is attending Jazzahead in Bremen this year!
The trio is part of the ŠKODA clubnight program at Jazzahead, playing an hour show on Saturday, April 26th at 11pm @ Sendesaal, Bremen, Germany.
---
March 20th, 2014


Konnichiwa Japan! We´re back to do five shows this week! Concerts are spreading through Kyoto, Kobe and Tokyo. First out is RAG live spot in Kyoto tonight!
For more shows, check out this!
---
February 6th, 2014


Great news - the Berlin Philaharmonic concert, with these fantastic people: Bugge Wesseltoft, Knut Reiersrud, Solveig Slettahjell and Mathias Eick, is also coming to Oslo! March 10th is a one time chance in Norway to hear this project before we all head down to Berlin and to the great Berlin Philharmonic Chamber Hall. Be sure not to miss this!!

March 10th, Oslo concert
www.jakob.no
www.facebook.com

March 11th, Berlin concert
www.berliner-philharmoniker.de
---
Januray 13th, 2014


Happy New Year, everyone!

Ten years have past and we´re looking ahead toward the next ten years. We start off the concert season in March with concerts in Belgium and Germany before heading back to Japan. We´re particulary looking forward to play at the great Berlin Philaharmonic together with a great bunch of Norwegian friends. Bugge Wesseltoft, Knut Reiersrud, Solveig Slettahjell and Mathias Eick has been selected together with In the Country to do a concert by Siegfried Loch, founder of ACT Music. Looking tremendously forward to it!
---